Welcome to Our Website!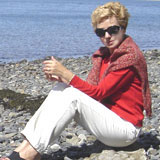 For adults over 50, staying fit and healthy, especially during the winter months, can be a challenge. Being motivated is the key and our Virtual Walk DVDs can help motivate you to exercise on a regular basis and make the time you spend exercising fun and enjoyable!
Why not exercise tomorrow by walking in Rome? Or in Venice, or along the Amalfi Coast, or in some of England's quaint Cotswold Villages? Time will pass so quickly that you'll go further on your treadmill, elliptical, or exercise bike than ever before - and you'll actually enjoy the time spent exercising!
Hundreds of adults over 50 tell us that these Treadmill Scenery DVDs help motivate them to exercise, lose weight, and stay healthy. Customers said: "Fantastic! Makes exercising fun again," and "Your DVDs have literally changed my treadmill workouts from a chore to a delight!" Click on the "Testimonials" tab above to read some of their enthusiastic emails.
Of course, never begin a new exercise program without first consulting your physician.
Walking for Seniors
Our Treadmill Virtual Walk DVDs will help motivate you to use your exercise equipment to get your daily workout, burn calories, lose weight, and stay physically fit! Our DVDs will work with almost any exercise fitness equipment, such as treadmills, ellipticals, stair steppers, Nordic Tracks, airdynes, stationary, and exercise bikes. At only $14.99 each (with free shipping to the USA), there is no reason to delay. Our Treadmill Virtual Walk DVDs truly make exercising fun!